SHOWS
Feb. 7 - March 6, 2021: Rowayton Arts Center's show "In the Garden" 145 Rowayton Ave., Lavender Fields Forever
2021- Art to the Avenue, Greenwich Arts Council, dates to come
AWARDS
Dec. 2019 -- New Rochelle Art Association, Adolph Grant Exhibit -- Juried Show, Honorable Mention, Oils for Visitor
Oct. 2018 -- White Plains Woman's Club, 62nd Beaux-Arts Exhibition.  Juried Show, 1st Place, Oils for It Will Pass
Oct. 2018 -- Rowayton Arts Center, Rowayton CT -- Fall Juried Show, Honorable Mention for Spring Thaw
July 2017 -- Beaux Arts Finale, Bronxville -- 1st Place Winner, Oils for Doug's Tree
Oct. 2016 -- The Woman's Club of White Plains, 60nd Beaux-Arts Exhibition. -- 1st Place Winner, Oils for Doug's Tree

MISCELLANEOUS
Spring 2020: My painting Alison's Cat was the Featured Art on the National League of American Pen Women's website.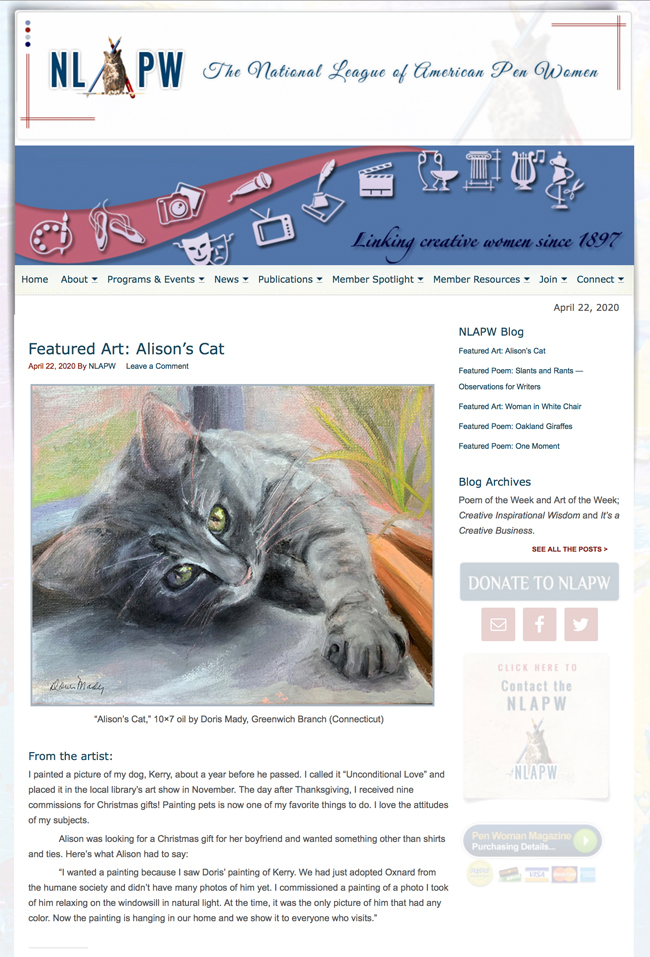 Winter 2020: The National League of Am. Pen Women's magazine, The Pen Woman, featured Earliest of Mornings.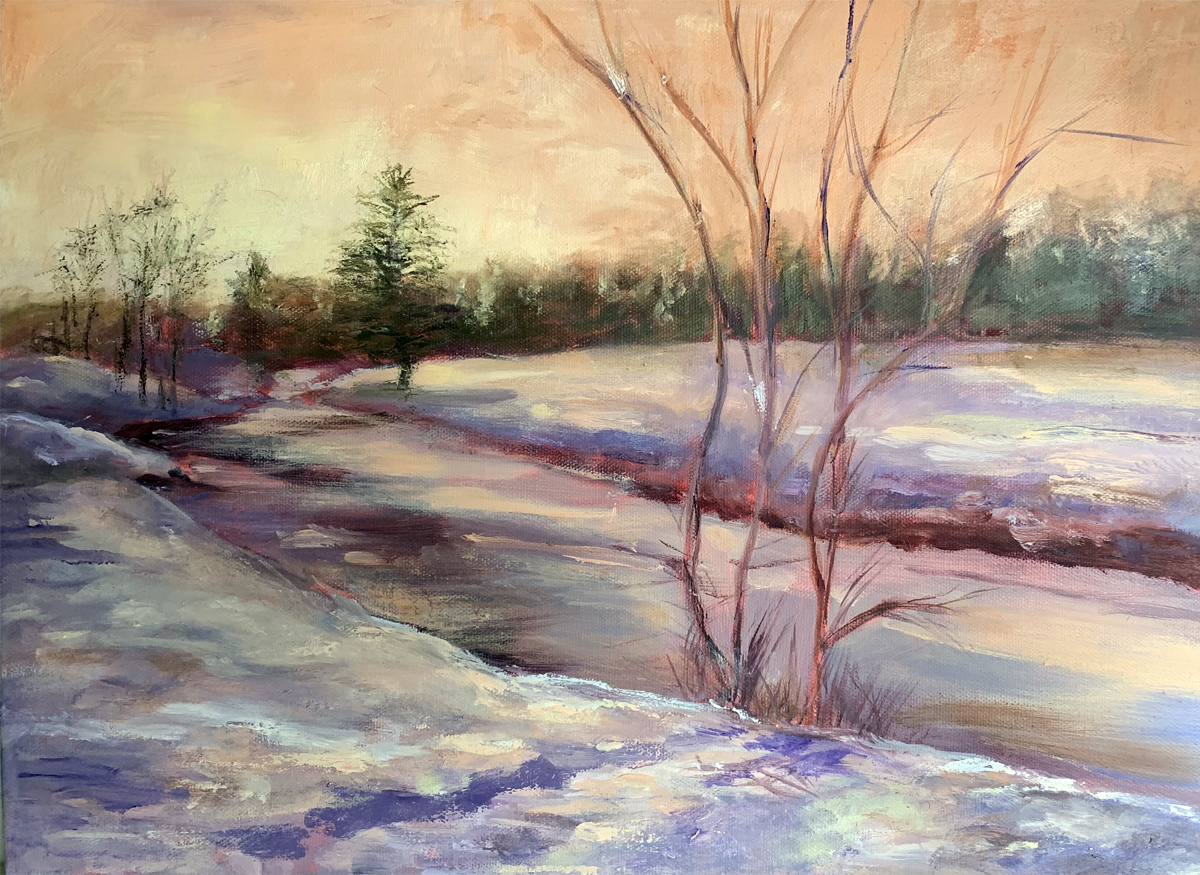 Month of June 2019: My painting Billowing In was the Featured Art on the National League of American Pen Women's website.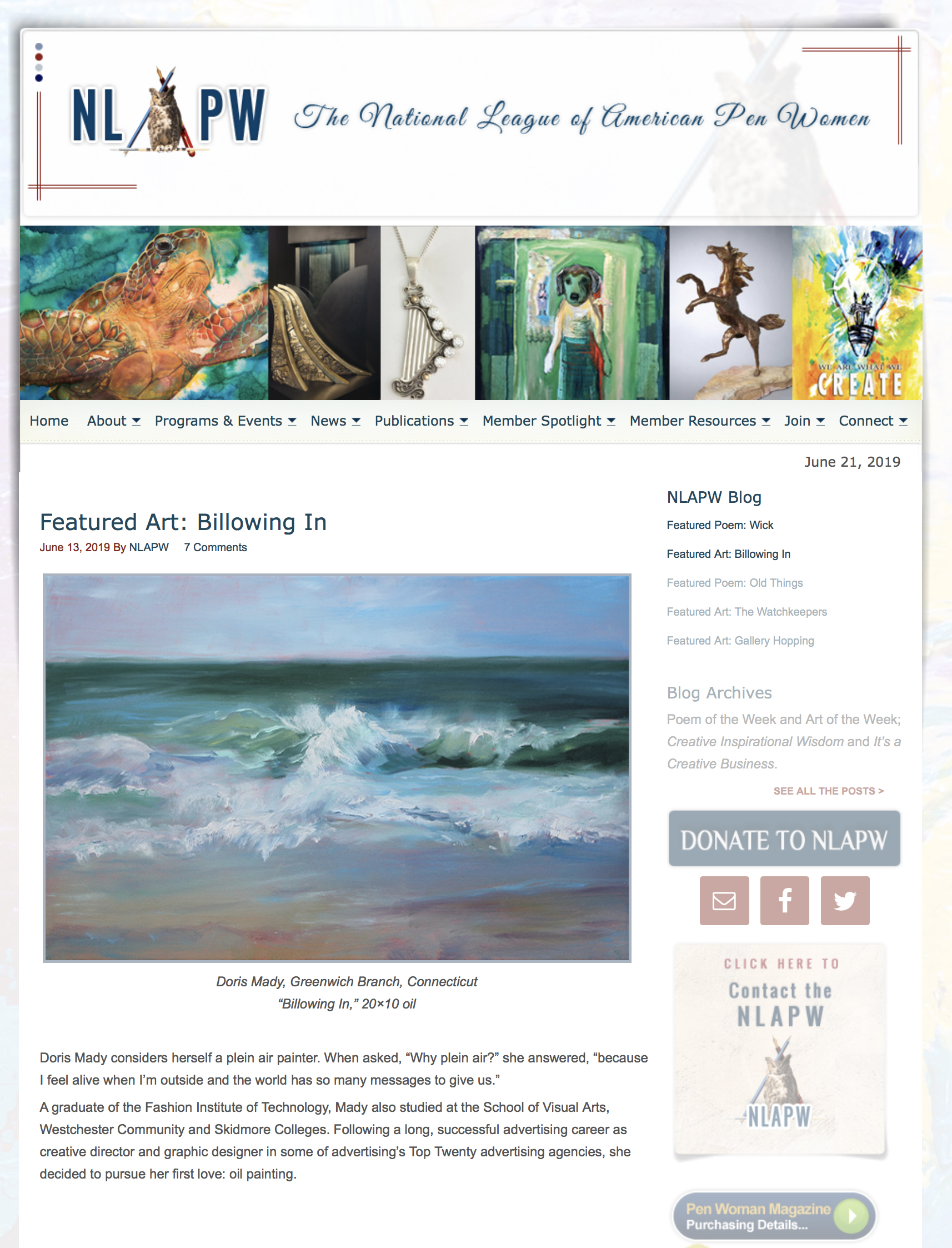 GALLERY
Art Provo, Regent Village, Grace Bay, Providenciales, Turks and Caicos Islands, www.artprovo.tc
PREVIOUS ART SHOWS
Jan.-Feb. 2021: "Small Works" exhibit, Art Closet Gallery, Chappaqua. At Rest, Yummy! Quiet Harbor, and Tickling The Shore
October 2020 -- Coastal & Marine exhibit: Rowayton Arts Center, Norwalk, CT My entries: Ode to Clouds and Nature's Applause
July 2020- August 21, 2020 - - Online One Woman Show with 67 of my paintings. The show is called, "...these are a few of my favorite things", Greenburgh Library
Oct. 2019 -- Woman's Club of White Plains, "Beaux Arts Show" Three entries: Interview with a Vampire, Tide Coming In, and Day Before the Storm
Sept/Oct -- One Woman Show, "...More Favorite Things" Greenburgh Town Hall, Greenburgh, NY
October 2019 -- New Rochelle Arts Association; 104th Annual Juried Show, New Rochelle Library Two paintings: Earliest of Mornings and It Will Pass
Sept/Oct 2019 -- Exhibiting Members Show: "Marine & Coastal" at Rowayton Arts Center, Rowayton, CT.
June 2019 -- Inside Small Juried Art Exhibit, Cos Cob, CT. Two paintings: Yellow Boat and Tickling The Shore
June 2019 -- Members' Show Ossining Arts Council at Ossining Library, My entry: Ridgefield Path
May, 2019 -- Art to the Avenue by Greenwich Arts Council, Bank of America, Greenwich, CT. 16 Paintings. 
May, 2019  -- Spring Fling at Stamford Art Association, Stamford, CT. Two Paintings: Seven Flowers and Ridgefield Path
April - May, 2019  -- 53rd Annual Northern Westchester Art Show, My entry: Tumblin' In 
Feb. - March, 2019 - Art 2 See by Ossining Arts Council Members, Ossining. My entry: It Will Pass
Dec. 2018 - Jan, 2019 --Bendheim Gallery, Greenwich Arts Council, 299 Greenwich Avenue, CREATIVE WOMEN Artists of the Greenwich Pen Women. Entries: Spring Thaw and Doug's Tree.
Jan. 2019 -- Rowayton Arts Center, 145 Rowayton Avenue, Norwalk, CT --Student/Instructor Show.  Entries: Unconditional Love and Thunderhead.
MEMBERSHIPS
Dreamlineartists (Private facebook artists group)
Greenwich Arts Council
Greenwich Pen Woman, part of the National League of American Pen Women, Treasurer and Webmaster
Rowayton Arts Center, Exhibiting Member
Stamford Artists Association