Doug's Tree
This is the first painting I had done since college (which was decades ago). After many years working in advertising I decided now was the time to start painting again. I left my job in January but by June I still had not painted. I was afraid to put brush to canvas. What would I remember...what did I forget?
Remembering what I said about painting I signed up for a plein aire painting class in Vermont. Doug's Tree was my first painting in 40 years. Since I was going "big-time" now, I decided to enter this in my first art show and a "juried" show making it even more stressful. It was also a very hectic time for me. My best friend, Joani, had passed away and the entry deadline for the show coincided. I took the chance that I could get in and out of the art show and still make the wake. But there was a really long line of people ahead of me.I literally ran up to the Chairwoman and explained my time constraints. She graciously squired me thru the paperwork needed and let me get ahead of some people so I could make the wake.
Days later as I entered the Artist Reception the Chairwoman came to greet me with news: I had won First Place in Oils! What news! I looked up towards the ceiling, imaging the heavens and said "Thank you Joani you just gave me such good luck."
Unconditional Love
Our golden retriver Kerry was approaching ten years of age. While ten can be old for a Golden Kerry was in great health. Since she was extremely afraid of cameras and any attempt at iphone photography I didn't have many of those "cute" photos dogs owners often have. Kerry was also subject to epileptic seizures, which can be caused by many factors like allergies or stress, so photos were kept to a minimum.
One day, I was talking to a ski buddy of mine and he suggested I paint people's pets. (His sister did this in California and loved the people and experiences she encountered.) I just turned my nose up this suggestion because "portraits" were not "my thing". However, one day, I decided to paint Kerry before he got too old. This way I could remember him in good health. Did I ever get the surprise of my life: Not only did I really enjoy the whole process but more and more people asked me to also paint their pet! I did some research of pet paintings (done by Sargent, Goya etc.) and saw that these noble pets are not just accessories in a picture but important elements in the overall statement the artist wanted to make.
Not only has pet paintings replaced my first love, seacapes, but I really find my world really expanding because of these furry friends. 
Kerry's painting will always have a place in our home & hearts.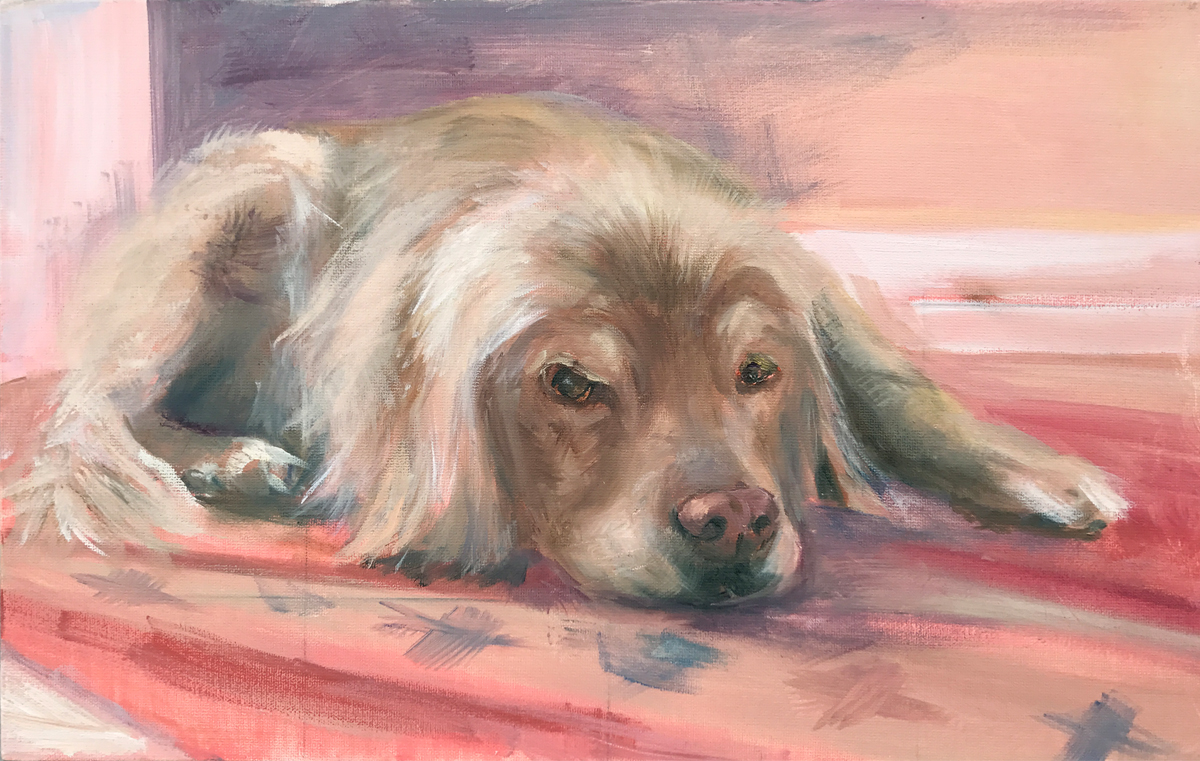 Chums: Diesel & Chauncey
One day as I was rushing to get in my car so I could safely eat my pandemic-proof coffee and donut from Dunkin' Donuts I noticed the van next to me. The owner of the van was closing the side door but I had enough time to see this huge, black thing inside her vehicle. Could it be a bear? My God! How could this be?
I decided to wait for her to come out of Dunkin' and see if she would open the door again so I could see for sure if she was transporting this dangerous animal. In a few minutes she came back. Opened the door & instead of a bear I saw this huge teddybear of a German Shepherd/Golden Retriever mix. I jumped out of my car and told her, "I just have to paint your dog...he's so beautiful" and I gave her my promotion postcard. I never expected anything to seriously happen from this brief encounter but two days later she called me and wanted me to paint Chauncey. Turns out Chauncey is a gentle giant and this painting was a Christmas gift for Chauncey's owner, Jeff. I was told Jeff was so touched by her gift that he had tears in his eyes.
Amazing what a brief encounter can do. 
 
Interview With A Vampire
I live in the historic Hudson Valley and as such have been afforded several opportunities not given to the general public at our local historic landmarks.
Because I use oil paintings, for example, I wouldn't be able to paint (plein aire) at the NY Botanical Gardens for fear that the chemicals or fumes would affect their plantings.
(Watercolors, which I don't use, would be permitted).
The summer before the pandemic, my 1st instructor and now friend, Douglas David, was coming back East to teach classes throughout New England. As any artist will tell you the Hudson Valley has inspired many an artist. 
We planned on having an afternoon to paint outside of a class environment. It was a beautiful crystal clear, sunny day and our vantage point at one of our historic landmarks was perfect. I had to make several phone calls to get permission since painters generally are not permitted on these sites. Doug was merrily painting away…seeming to knock everything out of the ball park. I, on the other hand, was struggling. I so wanted to impress Doug. I did what I could but wasn't getting what I wanted: a sparking pond just glittering in the sunlight. 
Days later I was about "to chuck my creation". But I decided to try an experiment: I turned my sunny day into a full moon evening with the moon beams of light twinkling across the water! For some reason this painting now reminds me of the Louisana Bayou. Hence I called this Interview with a Vampire after a favorite book by Anne Rice. Though a far cry from that glorious day...I feel "the night" had just as much to offer.